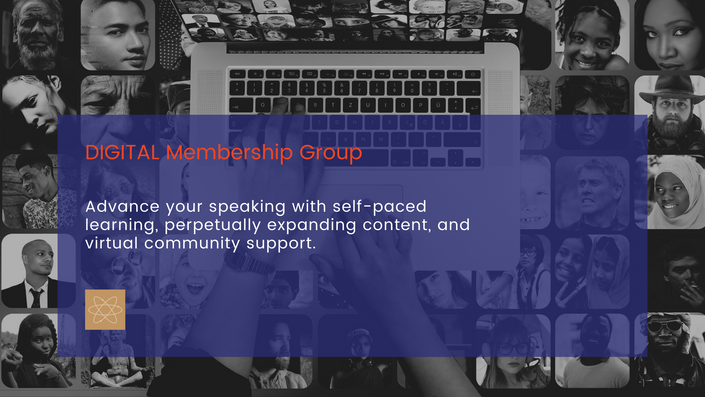 Digital Membership Group
Consistent access to self-driven speaking development
Advance your speaking with self-paced learning, perpetually expanding content, and virtual community support.
Access all of the MasterSpeaker Lab courses as well as a virtual community for support, feedback, and ongoing solution finding for your speaking and leading.
Your Instructor
Perpetual student Margaret works with speakers across the U.S and internationally. She is known for supporting over a thousand presenters and coaching over 100 TEDx speakers.

Margaret has been nicknamed "The Benevolent Pusher" for her uncanny ability to be supportive, directive, and entertaining as she leads communication workshops. She says, "Speakership is Leadership" and is passionate about helping people lead with their speaking. Read more https://www.linkedin.com/in/margaretwattsromney/.
Her free time is filled with meditation, podcasts, tea, hiking the paths of Boulder, CO, and reveling in her three grown daughters' marvelous lives.
Courses Included with Purchase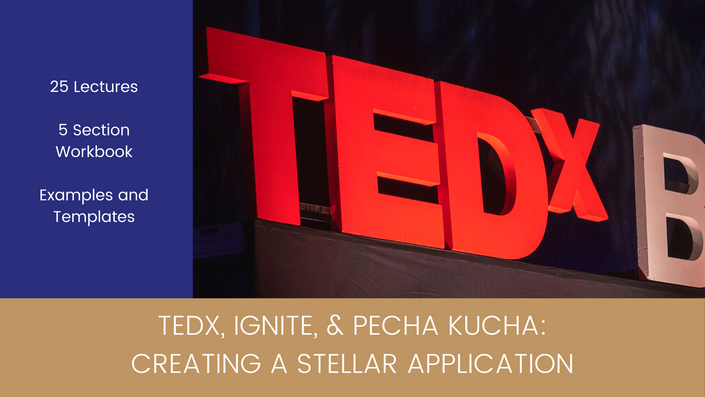 TEDx, Ignite, and Pecha Kucha: Creating a Stellar Application
Are you wanting to join the speakers at TEDx, Ignite, or PechaKucha? Take a peek behind the curtain with a seasoned curator, organizer and coach
$189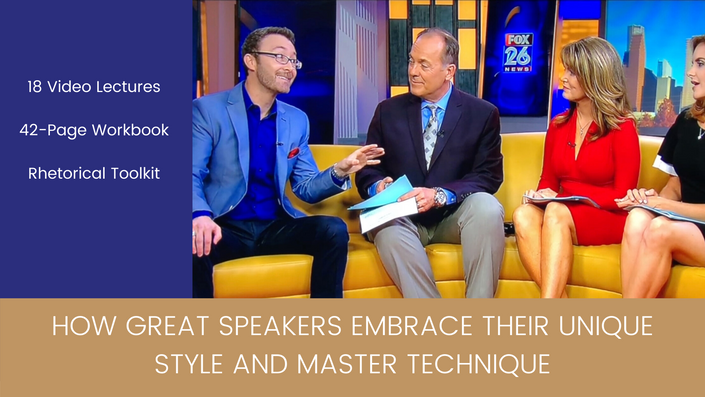 How Great Speakers Embrace Their Unique Style and Master Technique
Becoming the most dynamic, finely tuned, and authentic version of your speaker self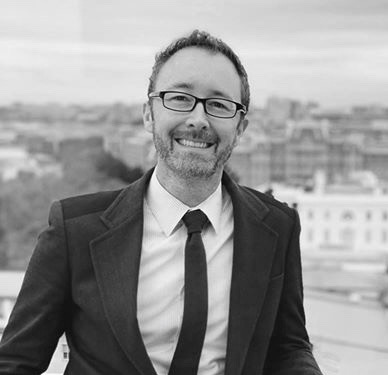 $189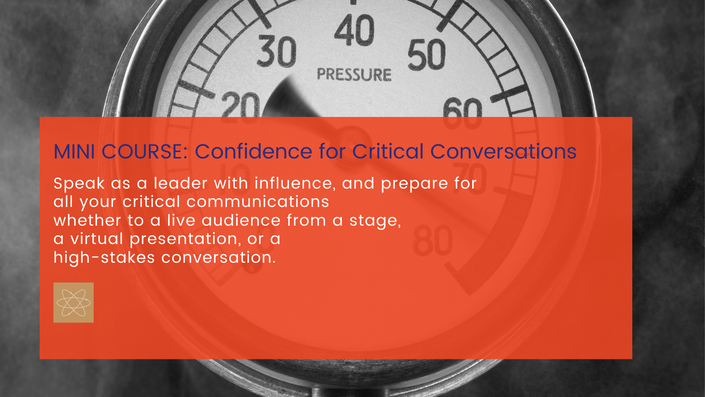 MINI COURSE: Confidence for Critical Conversations
Communicate with clarity and have confidence when it matters most
$15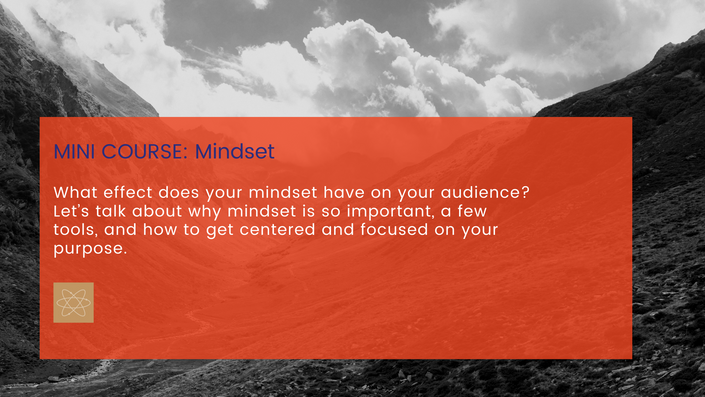 MINI COURSE: Mindset
Let's talk about why mindset is so important, a few mindset tools, and how it affects your speaking.
$15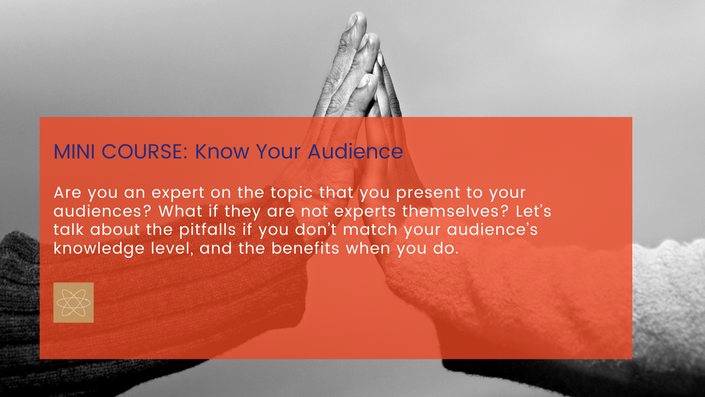 MINI COURSE: Connecting to Your Audience
Match your content to the audience's level of understanding.
$15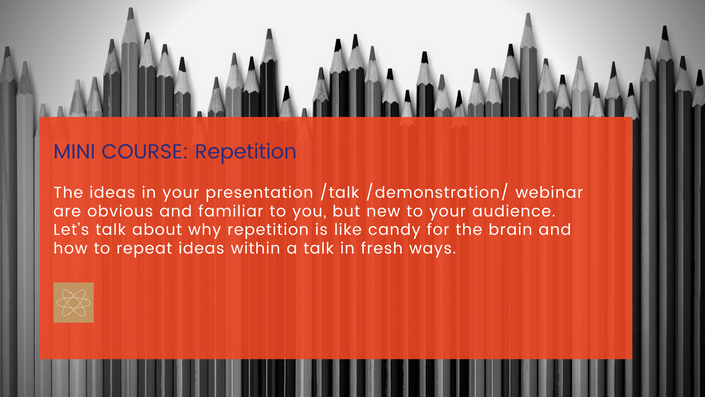 MINI COURSE: Repetition
Why repetition is important and how to repeat ideas within a talk in fresh ways.
$15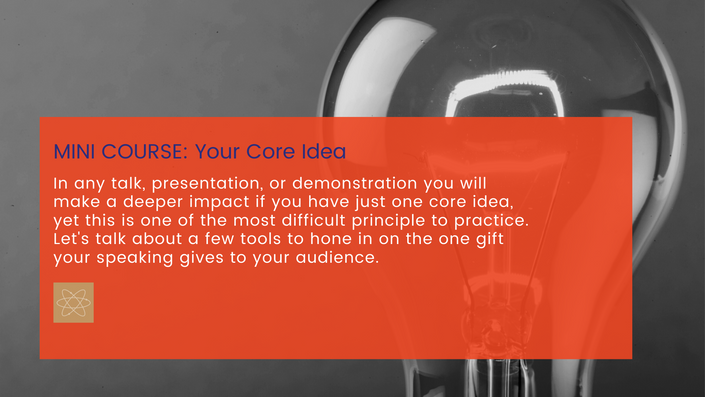 MINI COURSE: Your Core Idea
Why a core idea is important and Ideas to get you started to find yours.
$15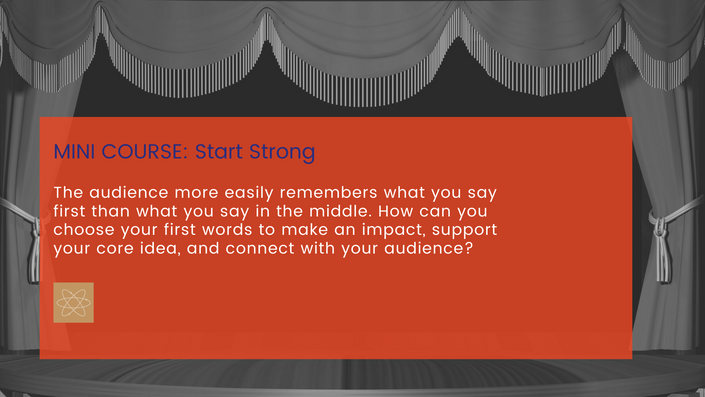 MINI COURSE: Starting Strong
Choose your first words to make an impact, support your core idea, and connect with your audience
$15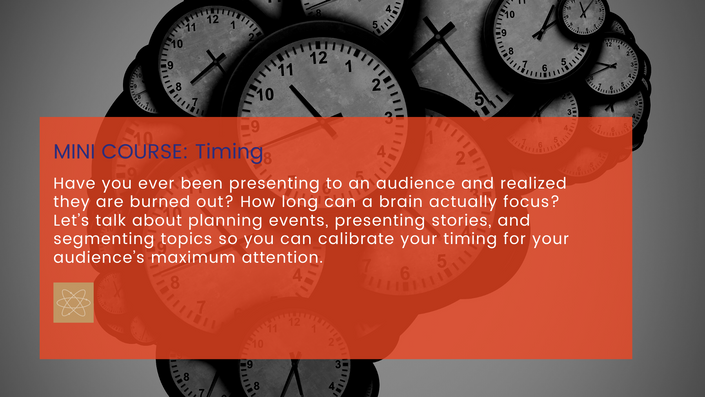 MINI COURSE: Timing
Calibrate your timing for your audience's maximum attention
$15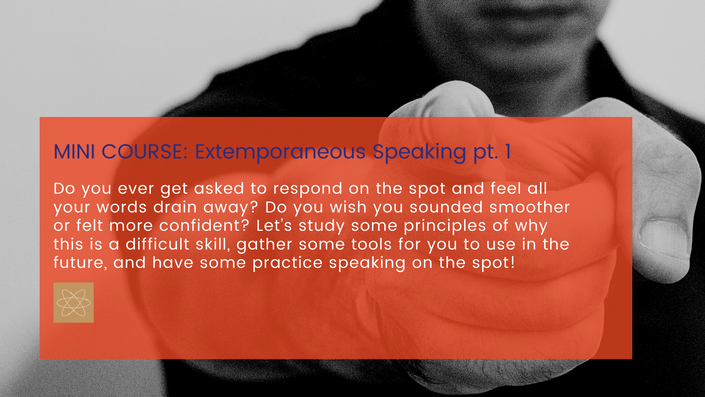 MINI COURSE: Extemporaneous Speaking part 1
Gather quick tools for your on-the-spot speaking plus exercises to practice quick pivots and surprises
$15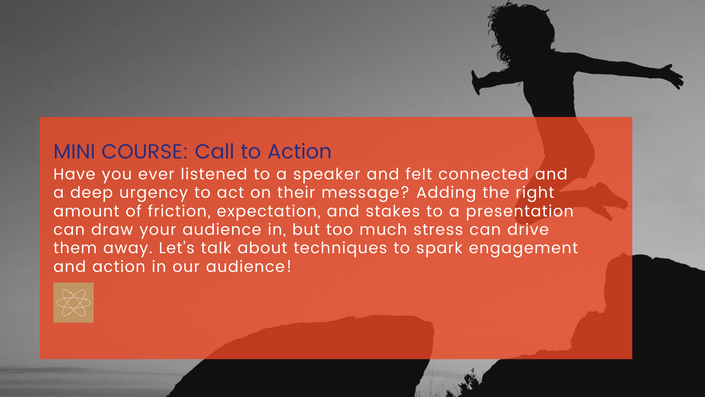 MINI COURSE: Call to Action
Adding friction, expectation, and stakes to a presentation to draw your audience in and inspire them to act
$15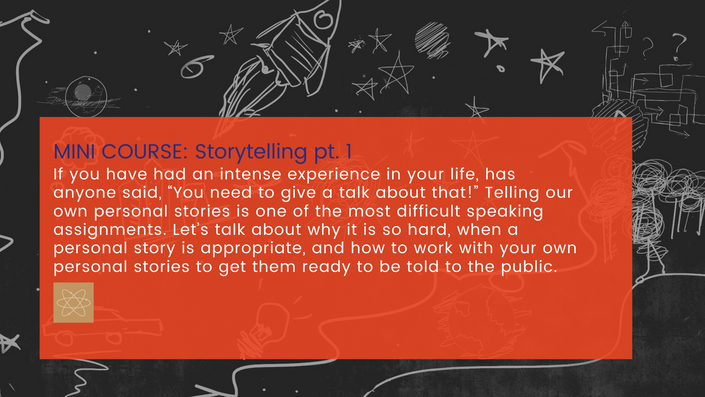 MINI COURSE: Storytelling pt. 1
Discover why personal stories are powerful but dangerous and how to work with your own personal stories to get them ready for your audience
$15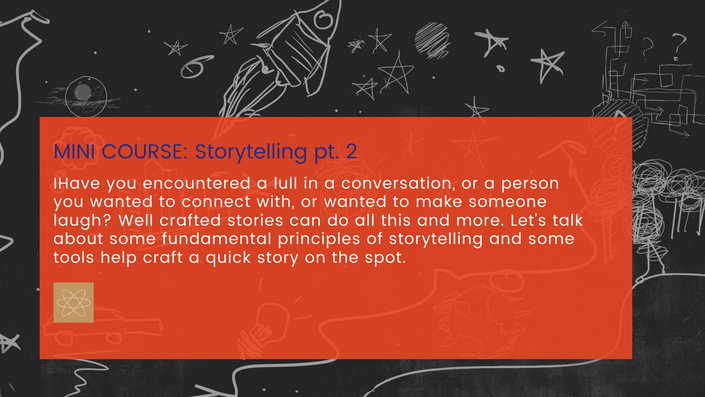 MINI COURSE: Storytelling Part 2
Storytelling fundamentals for entertainment and connection
$15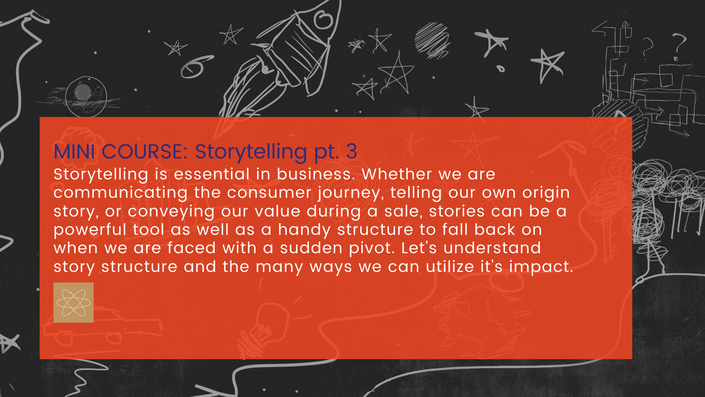 MINI COURSE: Storytelling pt. 3
Storytelling in Business
$15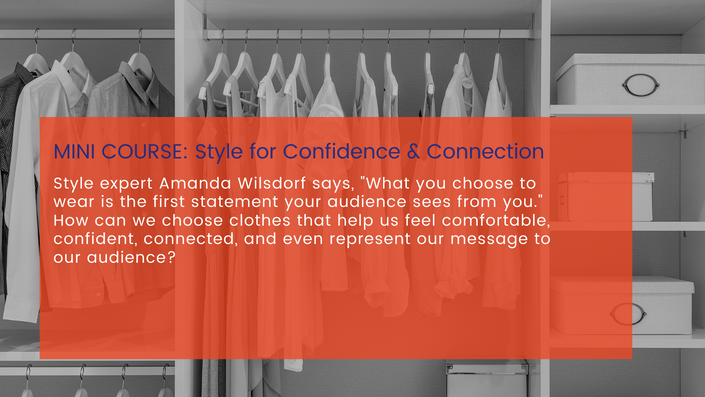 MINI COURSE: Style for Confidence and Connection
How to dress for your best speaking from the stage or screen
$15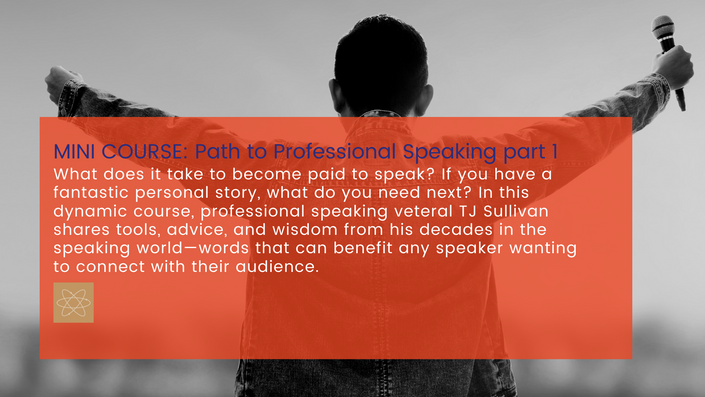 MINI COURSE: Path to Professional Speaking Part 1
Tools, Advice, and Wisdom from a Professional Speaker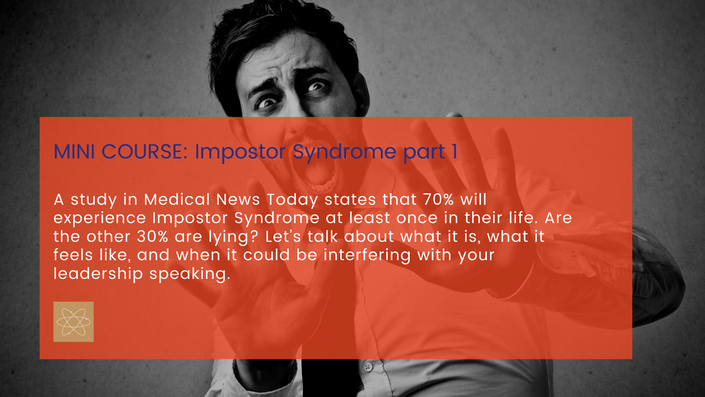 MINI COURSE: Impostor Syndrome Part 1
$15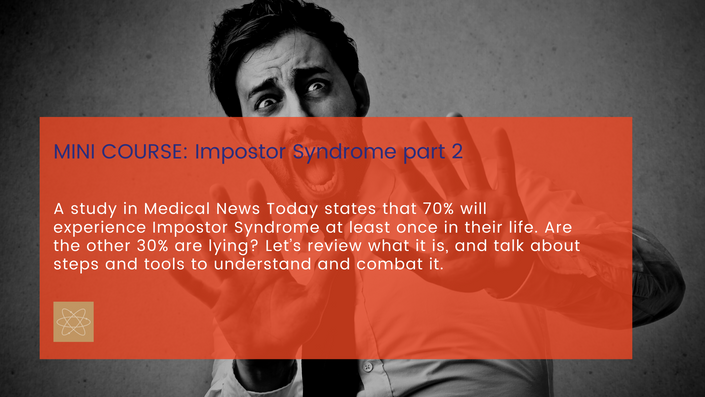 MINI COURSE: Impostor Syndrome Part 2
$15
Original Price: $603
Frequently Asked Questions
When does digital membership start and finish?
The membership starts now! You immediately gain access to all of the online offerings, and soon you will receive an invite to our private Facebook Group: MasterSpeaker Labe Membership Group.
How long do I have access to this membership?
As long as you like! We're continuing to build and grow and are excited for you to join our community. You have access to all the mini-courses, full courses, webinar recordings, and virtual groups as long as your membership is current! Welcome!!
What if I am unhappy with the membership?
We would never want you to be unhappy! You may cancel your membership at any time.