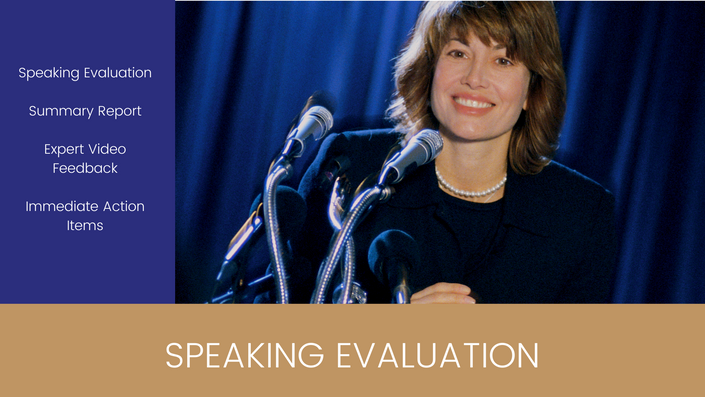 Speaking Evaluation
Get detailed expert feedback on your important talk, presentation, or keynote.
You are a speaker with a unique message, idea, or story to share.
But after that big conference presentation, TEDx talk, or Keynote, have you ever wished for more feedback from organizers, colleagues, or other experts? The kind of feedback that will sharpen your message and elevate you as a speaker?
Or better yet...do you wish you could get some feedback as you are practicing BEFORE a big event?

Sure…you've heard the obligatory, "Great job!" or "Thanks for speaking today!" But have you ever wondered what the audience really took away? What captivated them? And what didn't? What excited them and kept them on the edge of their chair? Or when did their minds wander?
If you're like us, you are driven to exceed audience expectations and inspire them to take your message to heart. Whether from the stage, on video, or in small groups, you want to genuinely connect, powerfully influence, and build undeniable credibility with your audience.
Our team at MasterSpeaker Lab is ready to provide you with the feedback you've been wanting. Specific advice that you can immediately apply to enhance the design, delivery, and style of your future talks.
Your evaluation will give you the answers you want.
How can you play to your strengths as a speaker?

How can you be more captivating, memorable, and persuasive?

How can you build a deeper audience connection?

What behaviors might be holding you back?

How can you fine tune your talk's design and delivery?

How can you heighten your message in a way congruent with your style?
If you are ready for some personalized feedback from professionals, this course is for you.
After filling our our intake forms and sending us a video of your speaking, within a week one of our MasterSpeaker Lab experts will send you a three page report and personalized video with ideas, tips, and suggested next steps to develop your speaking.


Nothing has the power to influence people on such a deep level as a masterfully delivered speech or presentation.
This is especially true in the era of conferences like TED and globally reaching video sharing platforms like YouTube that can catapult you and your message into the public eye. Getting your talk to that point – strategizing, the creativity, and the thrill in seeing "a plan" come together is an exhilarating experience. And seeing the reaction of a grateful, inspired, charged-up audience…well, you can't put a price on that.
We are so excited to see your speaking and let you know what is already working really well for you! We have a detailed evaluation form that will be easy to quickly grasp, and we aim for you to be delighted by our personalized video feedback.
Let's do this!
Course Curriculum
SECTION 1: Intake
Available in days
days after you enroll
SECTION 2: Evaluation Report
Available in days
days after you enroll
SECTION 3: Personalized Video Feedback
Available in days
days after you enroll
Frequently Asked Questions
When does the evaluation start and finish?
After you register, send us your materials anytime within the next year. Then, we will return the written report and video feedback to you within a week. You may download the evaluation and it is yours to keep!
How long do I have to submit my materials?
Good news! No rush - send us your materials within 12 months of registering.
Is there a money back guarantee?
We would never want you to be unhappy! If you are unsatisfied with your purchase, contact us in the first 30 days and we will give you a full refund.
How does this work?
1. Create a link to a video of your talk or presentation of 30 minutes or less. 2. Fill out our intake form to let us know about you, the event, and the talk itself. 3. Get your report and personalized video feedback from your coach.