Overview
Your organization's success hinges on speaking skills.
A team's communication shows trustworthy professionalism, connects memorably with clients, and represents the company brand.
The reality is that most professionals haven't had speaking training since long ago college days… if ever. They need freshly sharpened abilities around body language, presentation development, confidence, and verbally responding to surprises.
Speakership Fundamentals is a program that revives public speaking basics, upgrades body language literacy, teaches story-based strategies, and delivers efficient presentation structures.
In this interactive, laughter-filled, fumbles-welcome, learning-intensive space we understand impactful non-verbal language, learn to manage nerves, dive into your own real-time communication projects, and realize the speaking principles we all already have.
PROGRAM OBJECTIVES:
Gain tools to manage nerves & energy

 

Learn storytelling principles
Upgrade real-time work communications
Create memorable presentations

Navigate surprises and pivots

Enhance leadership presence
WHO THIS IS FOR
Team members: professionals who innovate, solve problems, work with people, and need to present their ideas with their words
"Sudden Leaders": people who have expertise, but now need to lead teams and face stakeholders
Established Leaders: leaders who need strategies to share their vision and inspire a call to action in their teams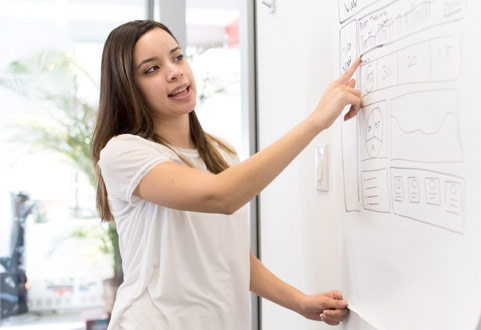 GROWTH OVER 40%* IN:
Body Language Confidence
Assured Mindset
Presentation Skills
Spontaneous Speaking
*Surveys administered before and after the course show a 40% gain in self-assessed skills
Master Speaker Lab Praise
In their own words…
In their own words…
Speakership Fundamentals creates an understanding of how effectively manage meetings and conversations, giving the participant tools to immediately apply as well as improve with practice. It is great for both the novice and the experienced speakers.
In the Speakership training, I have learned to be more present in my meetings with my clients and potential clients. I have learned the importance of providing context in the meetings with our groups, which also helped me to bring that into my interactions with my clients.
I've seen the level of confidence increase in pretty much every single person that took the Speakership Fundamentals program.
In the Speakership Fundamentals program, what stood out were actual tools for calming the nerves. I think it was a great team bonding exercise and definitely made me overall just more confident.
If you do the work you will get the value. Invest in yourself! Also the workshops truly foster a team environment and I feel closer to the members of [my team] that attended with me